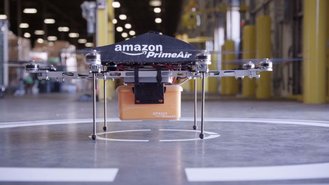 The United States Patent and Trademark Office recently granted Amazon, the online retailer and technology company, a patent for a drone that can charge an electric vehicle. Apparently, Amazon not only wants to deliver packages by drone but electricity as well.
The patent, first discovered by The Drive, explains Amazon's EV-charging drone identifies a roof-mounted target, docks with the moving car, and then flies away when charging is complete. In the patent, Amazon identifies several different docking solutions, such as the use of clamps.
With the limitations in battery technology and weight, the drones won't be able to fully charge an electric car. Instead, the drone would provide just enough juice to get the vehicle to the nearest charging station or back home. This is something to use in emergencies – it's like range anxiety insurance.
An exciting aspect of the patent is how the car will request the drone itself when electric range becomes low – it happens automatically, without any input from the driver.
For as impressive as this technology sounds, there are some legal hurdles in Amazon's way. The Federal Aviation Administration is quite strict on drone usage. Having an army of EV drones buzzing about won't come without legal challenges.
There's also little indication Amazon is eager to enter the automotive sector. Just because the company has the patent doesn't mean the online retail giant is actively working on bringing the technology to market. Companies often file patents for things they never intend to produce, so that competitors don't steal their ideas.