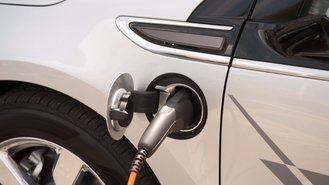 The federal government loves sticking its nose into the automotive realm, and for good reason. If it doesn't hold the hands of some automakers, they'd likely still build massive land yachts with steel bumpers and no seat belts. Today, the Obama administration launched a series of executive actions that will help push the development of electric vehicles.
The biggest announcement to come from these actions is the release of up to $4.5 billion in loan guarantees to support the development of innovative EV charging stations. The goal here is eventually to develop public charging stations that charge at speeds of up to 350 kW—currently, the fastest is Tesla's Supercharger Network at 150 kW—and place them in corridors that make sense for long-distance travel. If this comes to fruition, we could see 200-mile EVs charging in just 10 minutes. This would overcome the charging-time issue that most commuters have with EVs.
On the cost and density side of things, the administration also wants to see the cost of batteries fall below $100 per kWh and the energy density to exceed 500 Wh per kg.
Other highlights of this new initiative are calling for various state and local governments to buy electric vehicles at discounted rates, launching an EV "Hackathon" to develop new technology, publishing a new guide to federal funding, financing and technical assistance for EVs and charging stations, and signing up 35 new participants in the Department of Energy's Workplace Charging Challenge.
Though we'll have to wait a while for all of these actions to bear fruit, there are still plenty of awesome deals on EVs and other plug-in models. One of the best deals now is the 36-month lease on the 2016 Nissan LEAF that runs $199 per month with just $1,999 due at signing. For those who prefer to buy, there is 0 percent APR for up to 72 months on the LEAF with an extra $4,000 in finance bonus cash.