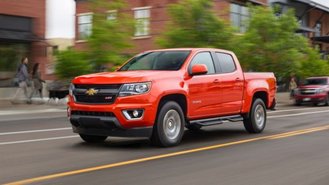 Around our offices in sunny El Segundo, we love diesel. Really love it. In everything from the 2015 Volkswagen Golf TDI to the even more impressive 2015 BMW 328d and its glorious 280 lb-ft of torque, diesel offers the best blend of performance and fuel economy. But one segment where diesel is lacking is the midsize truck class. The best seller continues to be the 2015 Toyota Tacoma. But the trucks which are earning the most praise as of late are the 2015 Chevrolet Colorado and 2015 GMC Canyon. And that trend is likely to continue with today's official news: they're getting diesel power for 2016.
Truck Buyers Choice: Ford F-150 EcoBoost »
Worth the Price Increase?
Although prospective truck shoppers will be happy to hear about the news, we're wondering if the $3,730 price jump is actually worth it. We're bummed that the work horse of the group, the aptly named Work Truck, won't be offered with the diesel. The most affordable version will be the mid-level LT trim level with crew cab and will cost $32,950 after the mandatory destination charge is added.
The 2.8L Duramax Diesel, which will be mated to a 6-speed automatic transmission will reportedly return at least 30 mpg on the highway according the Automotive News. City mpg numbers were not discussed, but the Duramax diesel should easily surpass the 3.6L V6's 18 mpg rating. We're estimating that it will get around 24/31 mpg when it's all said and done.
The Better Value: 2015 RAM 1500
You knew this was coming. Although no other midsize truck offers diesel power, we looked to the well-armed full-size truck segment, where forced induction and diesel are offered. Ford has two versions of their outstanding EcoBoost via the 2015 F-150 while RAM offers a turbo-diesel option on their 2015 RAM 1500. For the sake of space, we'll focus on the RAM 1500 equipped with the 3.0L V6 Turbo Diesel.
Since the 2015 RAM 1500 has some solid incentives, the price gap closes significantly. In Southern California, rebates and finance bonus cash add up to $3,500, bringing the price of a 2015 RAM 1500 4x2 Quad Cab down to a Colorado-like price.
And for those who want a more affordable diesel option, look no further. The 2015 RAM 1500 4x2 Regular Cab has an MSRP of $31,625. That's $1,325 less than a diesel-equipped Colorado. Factor in incentives, and real world pricing down even further--up to $7,152 less than the Colorado diesel.
In the end, it's good to have choices. And although we feel the price is a little high for the Colorado diesel, it's a smaller and more maneuverable truck than the 2015 RAM 1500.
But truck shoppers seeking the most value for their dollar might want to step up without stepping out of their budget boundaries.