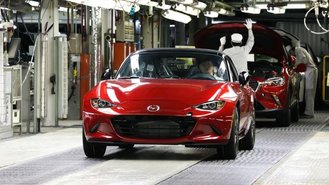 It's official: the 2016 Mazda MX-5 Miata will start at a wallet-friendly starting price of $24,915, and eager enthusiasts and patient collectors alike can't wait to take delivery of the the lightweight rear-wheel drive roadster late this summer. Production for the 4th generation roadster started today. And besides the beautifully-sculpted sheet metal, the main thing you will notice once you get inside is the driving position. It will now place both driver and passenger lower than ever before. In addition, the hood line will also sit proportionately lower, as well. All of this is done to lower the Miata's center of gravity and improve handling.
We can anticipate the products of these improvements, which will undoubtedly be quicker left-to-right transitions to go along with crisply-executed heel-toe shifts. Speaking of shifts, both automatic transmission and manual gearboxes will be available on each trim. For a car of this stature, we can't help but save the $1,075 and opt for the manual while responsibly allocating the funds to stickier track-day Pirelli P Zero Trofeos.
2015 Mazda Miata Prices & Deals >>
The first batch of 1,000 Miatas will be earmarked as Launch Edition models and will feature several unique features which pivot predominantly on aesthetics. Later, three additional trim levels will also get released into the wild.
2016 Mazda Miata Launch Edition - $31,315

The Miata Launch Edition will feature a host of exclusive features, including Soul Red Paint, Sport Tan Leather Interior, larger 17-inch aluminum wheels, heated seats, premium audio and enhanced i-ACTIVESENSE safety system. In hopes of eliminating potential markups, prospective shoppers can place pre-orders on Tuesday, May 5, 2015 at www.longlivetheroadster.com . Mark our words, though: all 1,000 will sell out quickly, so be sure to stay glued to a stable Wi-Fi connection.
The rest of the trims are as follows:
2016 Mazda MX-5 Miata Sport - $25,735
The Miata Sport will have more standard features than the current 2015 Miata, including 16-inch alloy wheels, cruise control, LED headlights and tail lights, integrated Bluetooth, leather-wrapped shift knob, USB input and the all important power door locks. The Sport is for the shopper who wants the most affordable Miata possible.
2016 Mazda MX-5 Miata Club - $29,420
For those who want the ultimate track-ready Miata, Mazda will offer the Club trim level which features a specific group of options that improve handling and performance. The upgrades include sinister 17-inch aluminum wheels shod with sticky 205/45/17 tires, a more aggressive front airdam, trunk-mounted spoiler, MAZDA CONNECT with 7-inch touchscreen infotainment system and nine-speaker BOSE Audio System.
But as the salesman once said, "that's not all". The two features drivers will be thrilled about the most are the limited-slip differential and stout Bilstein shocks. Moreover, an optional $3,400 package will also offer even lighter and strong 17-inch forged wheels, beefy Brembo brakes and even more aggressive aerodynamics. If you add up what these parts would cost separately, you'll easily see that it's a downright bargain.
2016 Mazda MX-5 Miata Grand Touring - $30,885
Finally, the Grand Touring trim level will add headrest-mounted speakers, a BMW-esque commander control knob, Homelink garage door opener, rain-sensing wipers and adaptive headlights to go along with the Bose 9-speaker audio, MAZDA CONNECT and Mazda i-ACTIVESENSE safety suite.
Mazda Issues Miata Markup Warning >>
The complete lineup of 2016 Mazda MX-5 Miatas are smaller, lighter and more driver-focused than ever before. It might be a full 150 pounds lighter than the 2015 Miata, but it will also be safer as a result of all the structural enhancements and active electronics which will help to prevent accidents.
The remainder of Miata trim levels will all go on sale in either September or October of this year.