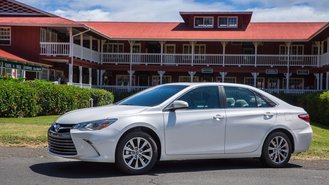 Every year, Cars.com puts together its American-Made Index, which is a list of the most American-made vehicles that takes into account the number of domestically made components (vehicles must be at least 75 percent domestic parts to qualify), whether the vehicle is manufactured in the U.S., and the number of units consumed by American buyers. With the 2016 calendar year already halfway over, the publication has put out its latest index.
Topping the list for the second straight year in 2016 is the Toyota Camry. The Camry not only tops this list, but it accounts for the highest number of assembly workers at 7,000. Rounding out the top five, in descending order, are the Honda Accord, Toyota Sienna, Honda Odyssey, and Honda Pilot. Surprisingly, you have to go all the way to the Chevy Traverse at sixth on the list before reaching the first "American" automaker. Seventh and eighth are the GMC Acadia and Buick Enclave, respectively.
One model that is surprisingly not on this list is the Ford F-150. Unfortunately, the F-150 misses the mark as it has less than 75 percent American-made parts.
In addition to being the most American-made vehicle in the world, the 2016 Toyota Camry has great deals, too. Its 36-month lease deal that runs $189 per month with just $1,999 due at signing is a stellar value, as is up to $2,500 cash back. There are also great APR deals as Toyota is offering 0 percent APR for up to 72 months. For those looking for the latest and greatest, there is the 2017 Camry and its cashback of up to $1,000.