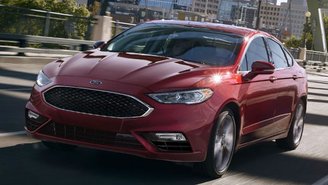 Ford is announcing a recall for approximately 1.3 million Ford Fusion and Lincoln MKZ sedans. While some recalls are over annoying or silly issues, this one absolutely isn't, because the steering wheel could fall off. Yes, really.
The recall impacts the Ford Fusion and Lincoln MKZ twins. In the Fusion's case, cars built between August 6, 2013 and February 29, 2016 (that'd be model years 2014 through 2017) at the automaker's Flat Rock, Michigan facility are affected, as well as model years 2014 through 2018 from the Hermosillo, Mexico facility. The latter vehicles were built between July 25, 2013 and March 5, 2018. Those dates and model years also impact the Lincoln MKZ, which is built on the same Mexican assembly line.
The cause of the issue lies with the steering wheel bolt, which may not maintain torque and could loosen over time. This could cause the steering wheel to come off the column – unsurprisingly, that's a very bad thing that could lead to a loss of control and potentially (but almost certainly), a crash. Ford knows of two accidents and one injury allegedly related to the issue.
The recall affects approximately 1,378,637 vehicles in North America with 1,301,986 in the United States, 62,479 in Canada, and 14,172 in Mexico.
Dealerships will replace the steering wheel bolt on affected vehicles with a longer bolt. The new bolt has a more robust thread engagement and larger nylon patch placed for the proper torque. The fix is at no cost to customers.