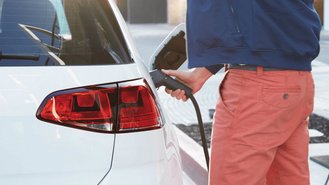 One day after revealing its charging stations with a new set of suppliers, Volkswagen's Electrify America has announced a new partnership with Walmart to bring 150 DC fast chargers to approximately 100 Walmarts across 34 states by 2019.

In addition to allowing consumers to find a good deal on various products, Walmart has offered EV owners the ability to charge their car for some time. The new collaboration, though, will see the company double its electric infrastructure and become a leader in charging station hosts for retail companies.

"The expansion of Walmart's electric vehicle charging facilities with our ultra-fast charging systems will provide consumers with a quick and convenient way to charge their vehicles in the time it takes to make their Walmart purchases," said Mark McNabb, Electrify America's President and CEO. "EV owners need a convenient, reliable and fast turnaround in recharging their vehicles. Walmart is the perfect partner for Electrify America to bring electric charging services to EV owners who value their time."

The new partnership with Walmart is part of Electrify America's overarching goal to install 2,000 chargers in 484 charging stations across the US. The chargers will be available in 17 metropolitan areas and on highways in 39 states. All of the chargers are expected to be under construction or installed by 2019. In addition to retail stores like Walmart, Electrify America will also erect charging stations near dining, parking, and other facilitates.

The chargers themselves will offer a 50-kiloWatt connector and will have dual-handle dispensers with 50 to 350-kW connectors. Users will be able to utilize a 15-inch touchscreen display to ensure their vehicle is charging. EV owners can also use the Electrify America App that allows users to "Plug-Play-Charge-Go."

The addition of charging stations across the nation could help consumers make the switch to an electric vehicle, as a recent study by Electrify America revealed that consumers with access to a fast EV charging station close to where they shop or work are more likely to consider purchasing an electric car.