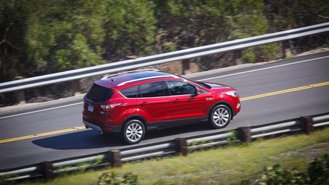 Unlike other automakers that are planning to dive head first into the world of electrification, Ford wants to test the waters first by slowly adding electric vehicles to its lineup.
According to a report by Automotive News, Ford is planning to bring a hybrid version of the Escape back onto the road, but this time, as a plug-in model, while the automaker's full-size SUVs will soon be available as hybrids, as well. Citing anonymous sources, AN claims an Escape plug-in hybrid, a Ford Expedition hybrid, and a hybrid version of the Lincoln Navigator are scheduled to come out in 2019.
The vehicles, in addition to a Lincoln MKC plug-in hybrid model that's also expected to make its debut in 2019, are part of Ford's overall plan to introduce 13 vehicles that use some sort of electrification within the next five years. The other models include hybrid variants of the F-150 and Mustang, which will come out later in 2020.
To help reach its goals, Ford reportedly invested $4.5 billion into developing the 13 cars.
"They're at a critical point in their strategy, and that's trying to balance today and tomorrow," Jeff Schuster, senior vice president of forecasting at LMC Automotive, told AN. "You don't want to go all in on EVs at this point because that's not going to pay the bills and keep the lights on today, but you also don't want to get behind."
Ford's current lineup only has five electrified vehicles – the C-Max Hybrid and Energi plug-in, the Fusion Hybrid and Energi, and the Focus Electric – and aside from the Fusion Hybrid, none are setting the world on fire. Considering that, Ford's goal of nearly tripling the size of its electrical/electrified vehicle lineup won't be easy, but will firmly place the company in a good position for the future.