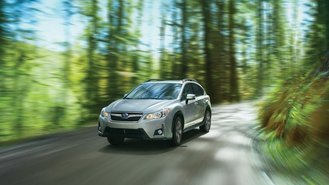 A US trademark filing last month suggests Subaru's first plug-in-hybrid may be named "Evoltis." According to Car and Driver, the Japanese automaker received a code 1B on its filing, meaning the company has "intent to use" the name.
However, the filing and code don't mean Subaru will use the name for a vehicle. Evoltis could be the name for any number of things the company is planning, such as the charging hardware, the overall plug-in ecosystem, or the hybrid system itself.
Regardless of the name, Subaru will reveal a plug-in hybrid by the end of the year. The car will use hybrid technology borrowed from Toyota, likely the powertrain from the Toyota Prius Prime, although Subaru will probably add a third motor to the rear axle to essentially create an all-wheel-drive effect.
According to Subaru chief technical officer Takeshi Tachimori, the automaker "used Toyota's technologies as much as possible" in developing its hybrid. However, Subaru's new plug-in likely won't return the Prius Prime's EPA-rate 25 miles of all-electric driving range.
Subaru previously offered the Crosstrek Hybrid but ceased production after a premium price and poor fuel economy lead to abysmal sales. Hopefully, the automaker's latest attempt is a success.