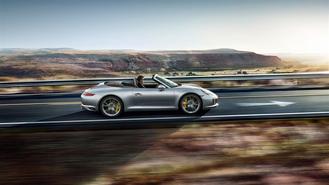 Porsches have traditionally been exclusive vehicles. Now a handful of Porsches are subject to a very exclusive safety recall.
The National Highway and Transportation Safety Agency (NHTSA) has announced a recall regarding the seat-mounted side airbags installed in some model-year 2017 Porsche 718 (both Boxster roadsters and Cayman coupes) and 911 (including cabriolets and Turbos) models produced from late September to mid-October of last year. A small batch of airbag-inflator chemicals was improperly mixed by the supplier and may not ignite during an impact, rendering the airbags ineffective.
The recall affects all of 85 vehicles and isn't related to the industry-wide Takata airbag fiasco.
Those of you fortunate enough to have bought a new 718 or 911 in the past few months can check your VIN on the NHTSA website to see if you are included in the recall. Or, you can just wait for the official notification from Porsche. Dealers will replace the airbag modules free of charge when the appropriate parts become available.
The full NHTSA notice is posted here.