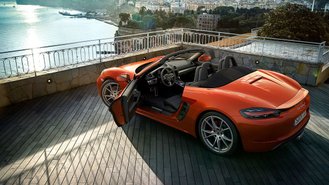 If you want a dependable car after three years, your best bets are still to buy a German or Japanese luxury car. But brands that aren't called Porsche or Lexus are moving up.
Porsche and Lexus tied for top honors in the 2017 JD Power Vehicle Dependability Study, the research company announced Wednesday, largely unchanged from last year when Lexus led and Porsche followed closely in second.
The survey tracks owner-reported problems per 100 vehicles of two-year-old cars sold in the United States. JD Power reported this year owners of the 10 most popular cars in the US reported far fewer problems than they did last year, with the Ford F-150 and Toyota Camry coming out on top of their respective classes.
But you don't have to spend a lot of money to buy from a dependable brand. Toyota, Buick, and Mercedes-Benz round out the top five in the rankings. Hyundai also jumped up 13 places to land in sixth this year.
These brands are all better than average, but a number fall below the benchmark. Acura and Infiniti tumbled at least a dozen spots to below average (and it should be noted far below their respective parent companies), to join Subaru, Mazda and every brand from Fiat Chrysler. In fact, Fiat owners reported nearly twice as many problems – 298 per 100 vehicles – as the average owner.
So while some brands still earn their reputation for quality, others are moving up and down JD Power's rankings. Which means it's still worth doing reliability research anytime you go looking for a new or used car.