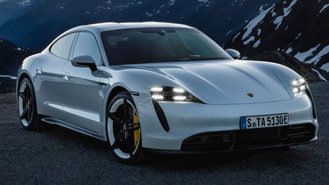 Don't ask a Porsche Taycan Turbo or Taycan Turbo S owner what size engine their car has. They'll scoff at the ignorance. "An electric vehicle doesn't need a turbocharger," they'll say. While Porsche is selling the Taycan Turbo and Turbo S, the car, the German automaker's first fully electric vehicle, has no turbocharger aiding with power production. It has no engine at all. Instead, it's powered by batteries and an electric. Using the Turbo name may seem misleading, but it makes sense for the Porsche brand.
The company has used the Turbo and Turbo S monikers to denote the brand's top-tier performance trims for years. And it's no different for the new Taycan. The Taycan Turbo and Taycan Turbo S represent the model's performance-oriented offerings. The Turbo and Turbo S both make the same 616 horsepower and 774 pound-feet of torque.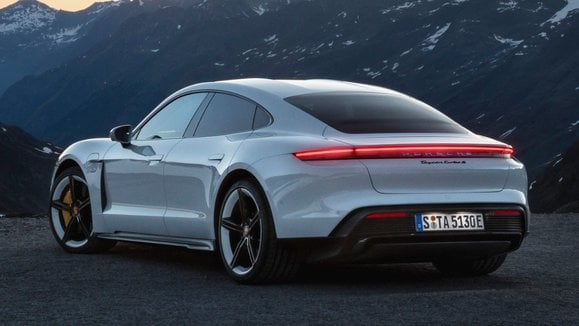 However, overboost can allow both trims to make more power—670 hp for the Turbo and 750 hp for the Turbo S. The Taycan Turbo can hit 60 miles per hour in 3 seconds flat while the Turbo S completes the run in 2.6 seconds. A quarter-mile run for the Turbo and Turbo S takes 11.1 and 10.8 seconds, respectively. The range is a Porsche-estimated 280 miles. Recharge from 5 to 80 percent can happen in as little as 23 minutes.
The Porsche Taycan is an important new model for the company. While Porsche has dabbled with hybrids in the past – the 918 Spyder – this is its first foray into a fully electric vehicle. The Turbo and Turbo S names feel a bit cheap, but the company has to not only find customers for the new offering but do so in a familiar way. Electric vehicles are different from their gasoline-powered siblings, and people are still leery of the technology. Using the Turbo and Turbo S names will help customers recognize how the Taycan compares to other Porsche offerings while ushering in a new-to-the-brand technology.