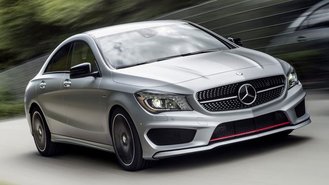 If you're considering a CLA-Class, you should know the least expensive Mercedes-Benz just got more expensive.
The luxury automaker made big news—and big sales—with an ad campaign trumpeting the sub-$30,000 base price of the all-new entry-level sedan. We don't expect the same level of publicity for significant price increases in 2015.
The base MSRP for a front-wheel drive CLA250 jumps from $29,900 to $31,500, an increase of $1,600 or 5.4%. The all-wheel drive 4MATIC goes from $31,900 to $33,500, the equivalent of $1,600 or 5.0%. The top-tier CLA45 AMG creeps up $1,050 or 2.2%, from $47,450 to $48,500. (All prices exclude a $925 destination charge.)

The CLA took a new role in 2014 as the entry-level model in Mercedes-Benz's lineup. Previously, the least expensive sedan was the C250 at $35,800. A redesign for 2015 moved the most affordable C-Class sedan up 7.3% to $38,400 with the C300. However, unlike the C-Class, design and standard equipment for the CLA250 are unchanged for 2015.

According to CarsDirect analysts, high demand and limited supplies make deep discounting rare. Mercedes-Benz has promised to increase production for the U.S. market, and this should give buyers more negotiating power, but we don't expect bargain pricing until inventory finally catches up with demand.
Read our full pricing and deals analysis for the 2014 CLA250 here. Visit the CarsDirect Pricing Insider page for detailed analyses on over 300 cars and trucks.
CarsDirect Tip:
Despite a higher base price, redesigned 2015 C-Class sedans have a rare $2,000 Holiday Bonus Cash incentive this month.