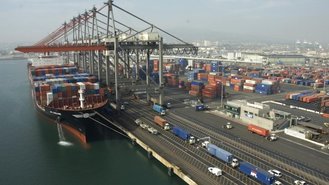 Honda will cut production in its North American production facilities because of labor disputes that have yet to be resolved at 29 of the busiest ports on the West Coast. Starting Monday, February 16th, Honda will slow production in Ohio, Indiana and Ontario (Canada) because parts like sensors and transmissions for models like the 2015 Honda CR-V come from overseas suppliers and can't make their way to the production facilities in time.
Top 10 Presidents' Day Deals on a New Car »
The ports are definitely a bottleneck and are wreaking havoc on the supply chain for not only Honda, but for the entire auto industry. The ports effectively control 3.5% of the country's GDP.
Honda Launches All-New 2016 Pilot SUV »
Honda hopes that the production slowdown will only last until February 23rd, 2015, but that's a bit optimistic in our opinion. Disputes involving money tend to last longer than usual.
So what does this all mean for you?
The shortage of parts means that prices of your favorite Honda model could rise due to tighter supply and increased demand, especially for the automaker's popular crossovers and SUVs.
If you're looking to take advantage of the big President's Day Sale on New Cars, our advice is to act fast before the news spreads and prices rise.