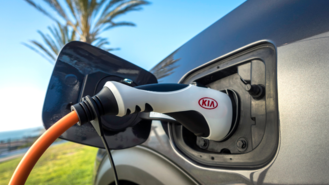 California's congestion is no secret, making access to HOV lanes is a coveted privilege. In California, owners of electric or plug-in hybrids gain HOV access even if they don't have a carpool inside the vehicle. This helps incentivize buying such vehicles. Starting Jan. 1, 2019, the state will issue new purple Clean Air stickers that will remain valid through Jan. 1, 2023. However, these are only good for electric and plug-in hybrid vehicles purchased after Jan. 1, 2019, according to Green Car Reports.
The perk of the new purple sticker is that it's valid longer than the current white and green stickers issued in 2017 and 2018, and the red stickers that the state has used since March of this year. The green and white stickers expire at the end of this year while the red stickers are valid through 2022.
The purpose of the program, which the state government extended through legislation, is to get more electric and hybrid cars onto the road. With congestion getting worse in the state, access to the HOV lane is a powerful incentive for many who don't want to spend a lifetime inching along through traffic.
Vehicles that could receive the new purple stickers include Chrysler Pacifica Hybrid, Ford Fusion Energi, Hyundai Ioniq plug-in, Kia Niro and Optima, Toyota Prius Prime, and many more. If you're in the market for a new plug-in vehicle, it's probably best to hold off on the purchase until after the end of the year.