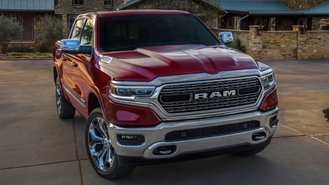 The electric pickup race is going to have another competitor join the fray, as the Detroit Free Press reports that Ram is getting ready to introduce an electric pickup truck. The outlet claims that Fiat Chrysler Automobiles CEO Mike Manley confirmed the news earlier this week, establishing that Ram wants to have a competitor for the new GMC Hummer EV and the upcoming Ford F-150 EV.
Manley, according to the outlet, didn't provide any official details on the upcoming pickup truck, but made an official announcement during the automaker's third-quarter earnings conference call.
"I do see that there will be an electrified Ram pickup in the marketplace, and I would ask you just to stay tuned for a little while, and we'll tell you exactly when that will be," said Manley.
As the Detroit Free Press points out, automakers tend to be ambiguous about future products, usually refusing to comment or flat-out denying that anything is in the works. So, hearing Manley confirm that an electric pickup is coming is strange. It also showcases the kind of pressure Ram is under to get an electric pickup on the market, claims the outlet.
This isn't the first time Manley has made some comments about the possibility of an electric pickup truck from Ram. Three months ago, Manley stated that the automaker would not "sit on the sideline if there is a danger that our position gets diluted going forward," states the Detroit Free Press. That's not nearly as specific as Manley's most recent comments, but implies that Ram was mulling over the possibility of an electric powertrain for one of its pickup trucks.
Manley's comments aren't exactly surprising, nor do they come at a surprising time. GMC recently unveiled the all-electric Hummer EV, which gained quite a lot of interest in a short amount of time. Additionally, with so many automakers set to introduce electric pickups in the near future, it seems like the market is begging for a pickup with an electric powertrain. While Ram's option would compete directly with the Hummer EV and F-150 EV, Tesla, Rivian, Lordstown, Bollinger, and Nikola are all other automakers looking to introduce an electric pickup in the future.
For consumers, this is great news. Competition ensures automakers are continually working hard on having the best product. Once upon a time, the Nissan Leaf was one of just a few pure EVs on the road. Look at the landscape now, and the industry has changed radically, as automakers are scrambling to get EVs that can compete with Tesla. More competition means better products, lower price tags, more features, and vehicles coming to market quicker.