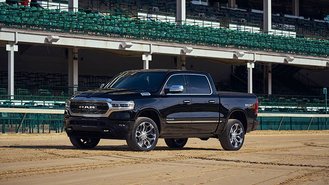 Fiat Chrysler Automobiles (FCA) announced a number of plans for their Ram division at an investor meeting last week, including intent to develop a mid-size pickup truck by 2022. Details were few and far between, but Ram confirmed that the truck will be coming to the US market.
Ram hasn't had a mid-size truck in their lineup since the 2011 departure of the Dakota, which was in production from model years 1987 to 2011 under Dodge and Ram nameplates. With the success of the Chevrolet Colorado and Ford's plan to bring back the Ranger, it's not surprising to see Ram step back up to the mid-size truck plate.
In addition, FCA laid out plans for what else to expect with Ram by 2022. While an all-new Ram 1500 bowed for the 2019 model year, the company also plans to debut redesigned Ram 2500 and Ram 3500 Heavy Duty trucks at January's Detroit auto show. Furthermore, FCA confirmed it's putting a full-size Ram Rebel TRX off-roader into production by 2022, and Ram will also redesign the Promaster City van by 2022.
These announcements came at the company's Capital Markets Day in Balocco, Italy on Friday, June 1. FCA laid out a product road map for the next five years for all of their brands, including announcing plans for four new Jeep models.
Much like the American market, FCA's presentations made it clear their focus will be on trucks, crossovers, and SUVs for the next half decade.