In the full-size pickup division, the Ford F-Series reigns supreme – that's the way it's been for quite some time and it's not exactly a secret. Second place is a little more complicated and has been a close race between the Chevrolet Silverado and Ram 1500. While the Chevrolet has always outsold the Ram, that wasn't the case for the first few months of 2019.

In the first quarter of this year, Ram, with the 2019 1500 and Classic, sold a total of 120,026 pickup trucks, reports The Detroit Free Press. During the same period, Chevrolet sold 114,313 Silverados. That figure doesn't include GMC Sierra sales, which accounted for 40,546 units sold in the first quarter of 2019. So if you count all of General Motors' pickup truck sales, the automaker comes out on top.

The outlet doesn't point to any reasons for the Ram 1500's success, but one of the things Chevrolet changed for the 2019 Silverado is the truck's exterior design. The 2019 Ram 1500 wears a much more upscale design than before, while the Silverado adopted a more dramatic blueprint. The new Ram also has a higher towing capacity – 12,750 pounds versus the Silverado's 12,200 pounds. There's also the fact that Ram introduced mild-hybrid systems that are an innovative step forward for the full-size segment.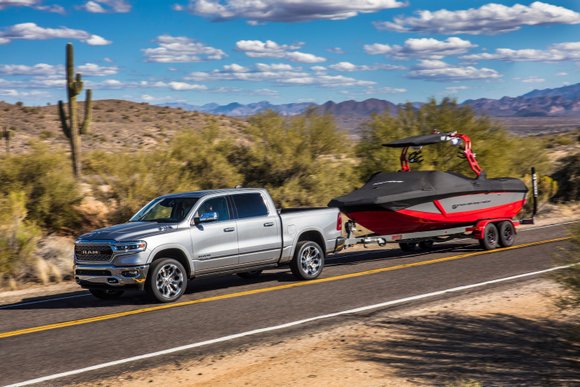 Another major change for the 2019 Ram 1500 is the move upstream to rival luxury vehicles in terms of features. The Ram 1500 can be fitted with air suspension, a 19-speaker Harman Kardon audio system, a 12-inch touchscreen, a wireless charging pad, heated second-row seats, and the fancy new multifunction tailgate.

All in all, large pickup trucks are offering consumers with more technology than ever, especially when it comes to safety, comfort, and usability. The segment-leading F-150 can be had with a 360-degree camera, adaptive cruise control, blind spot monitoring, automatic emergency braking, lane-keeping assist, Wi-Fi hot spot, and more.