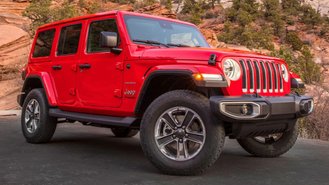 The Jeep Wrangler is known for being a simple, straightforward SUV that's made to go off-roading. The available Wrangler 4xe is far more complex than the average Wrangler because of its plug-in hybrid powertrain and has had its fair share of problems since it was introduced in 2021. The latest recall for the model sounds pretty serious. Jeep has announced a recall involving 62,909 Wrangler 4xe SUVs because of a software issue that could cause the engine to shut off while driving. So far, the issue has been linked to two accidents and one injury.
The plug-in hybrid Wrangler 4xe has a software issue that can cause a loss of communication between the engine and the diagnostic system. This can lead to the engine shutting off while the SUV is in motion, greatly increasing the risk of an accident. While Stellantis and the National Highway Traffic Safety Administration (NHTSA) claim that over 62,000 Wrangler 4xe SUVs are involved in the recall, the automaker is reportedly aware of 112 customer assistance records, 196 warranty claims, and 65 field reports of the issue that date back to December 17, 2020. So, it's possible that more units are involved in the recall.
Jeep became aware of the issue in September 2021 and conducted an analysis based on reports it had received to find the issue during the same month. The fix, according to the automaker, will include updating the software in the Transmission Control Module, Hybrid Control Processor, and Auxiliary Hybrid Control Processor. The 2023 Wrangler 4xe is coming with new software from the factory, so it shouldn't have the same issue as older models.
Wrangler 4xe owners with an SUV that was built before August 18, 2022, from 2021 to 2023 model years will be notified about the recall on January 12, 2023. Stellantis will reimburse owners that have attempted to get their SUVs fixed because of the problem as long as you send the original receipt or proof of purchase to the automaker for verification.
This is not the first time Jeep has had to recall the Wrangler 4xe. The plug-in hybrid SUV has been involved in three other recalls that include nonfunctional side marker lights, a fuel pump failure, and an unsecured fuse inside of the SUV's high-voltage battery.
Source: Consumer Reports