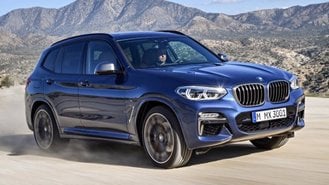 The 2018 BMW X3 is the third-generation of the sporty crossover and the German automaker hopes the vehicle has what it takes to deal with the competition that has started to come from all corners of the market. While BMW provided all of the important details behind the X3 earlier this year, we didn't know how much the SUV would cost – until now.
According to initial order guides, the X3 xDrive30i is priced at $43,445, including destination, while the M40i starts at $55,295. The xDrive30i is the cheapest X3 on sale at the time of writing and is $400 more than last year's xDrive28i that started at $43,045.
The new X3 brings a lot of changes over last year's model, which includes two new turbocharged engines. The 2.0-liter inline-four-cylinder that powers the xDrive30i models put out 248 horsepower and 258 pound-feet of torque, while the M40i features a 3.0-liter, turbocharged inline-six that generates 355 hp and 369 lb-ft of torque. In addition to the new powertrains, the X3 has a refreshed look and sits on a longer wheelbase.
Changes have also been made to the X3's interior where a 10.25-inch touchscreen replaces the previous model's 8.8-inch unit. The SUV's list of standard features has been expanded to include three-zone automatic climate control, power-adjustable sport seats, a forward collision warning system, and a 40/20/40 split-folding rear bench seat.
In terms of pricing, the new X3 is in-line with other luxurious SUVs. The Mercedes-Benz GLC300 4Matic costs $43,045, the Jaguar F-Pace has a starting price tag of $43,060, Audi's Q5 starts at $42,475, while the Porsche Macan is the most expensive SUV out of the bunch with a starting price of $48,850. The sportier M40i is also priced competitively, costing less than the GLC43 AMG, F-Pace S, and Macan S, but it's slightly more expensive than the SQ5.
With 355 hp and a zero-to-60-mph time of 4.7 seconds, the M40i has similar performance to its competition, as well. The GLC43 AMG, which is BMW's quickest adversary, has a 362-hp 3.0-liter twin-turbo V6 and can get to 60 mph in 4.8 seconds. The most powerful contender, the F-Pace S, is powered by a 380-hp supercharged 3.0-liter V6 engine and can make the sprint to 60 mph in 5.1 seconds.
With its competitive pricing, impressive performance, especially with the M40i, and new features, the X3 should be even more popular than the previous generation.