The 2021 Hyundai Elantra may be an all-new model, but it won't cost consumers that much more over last year's model. When the Elantra officially goes on sale before the end of the year, pricing will start at $20,645 including destination. That's just $350 more than the 2020 model. With all of the new features the 2021 Elantra comes with, the compact vehicle remains an excellent deal for consumers.
Compared with the 2020 Elantra SE, the 2021 model comes with a lot more features. Blind spot monitoring, rear cross traffic alert, pedestrian detection, automatic high beam assist, and safe exit warning are now standard. On the inside, the new Elantra features a larger 4.2-inch display in the instrument cluster, a larger 8-inch display, an HD radio, wireless Apple CarPlay and Android Auto, and dual USB ports. Seeing pricing go up by just $350 from last year is astonishing, because this list of standard features is easily worth a few thousand dollars.
At the other end of the lineup, the Limited features rear parking sensors, a 10.25-inch display, Hyundai's Highway Drive Assist system, and dynamic voice recognition. As a heads up, going with an Elantra model with navigation, like the Limited trim, wireless Apple CarPlay and Android Auto are replaced with wired smartphone compatibility. Pricing for the Limited trim starts at $26,445, which represents an increase of $2,300 from last year.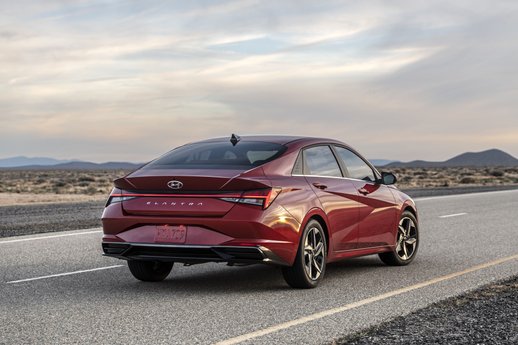 With the modest increase in pricing, the Elantra sits in the middle of the compact class when it comes to pricing. The Volkswagen Jetta is the most affordable vehicle in the class, carrying a price tag of $19,815. The Nissan Sentra, which starts at $20,235, is also more affordable than the Elantra. The Toyota Corolla ($20,920), Mazda3 ($21,445), and Honda Civic ($22,005) are more expensive.
Compared to the Civic, which is one of the more expensive compact vehicles, it isn't nearly as well equipped as the base 2021 Elantra. The Civic LX comes with a 5-inch display, Honda Sensing, which doesn't include blind spot monitoring, and very little in the way of tech features. The Civic is also missing standard Android Auto and Apple CarPlay. It's not just the Civic, but the majority of other compact vehicles don't have nearly the same standard tech features as the Elantra.
Clearly, it looks like Hyundai knew exactly what it was going up against and wanted to keep its title of offering vehicles that offer tons of value. If the new Elantra drives well and is relatively comfortable, which we believe it should and will be, it's certainly going to be a hit. That is, as long as consumers still want compact sedans.