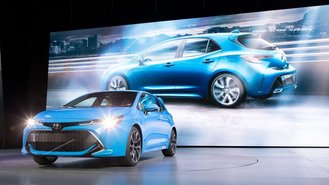 Since it first appeared on the scene in 1968, the Toyota Corolla has always been known as an indestructible commuter car – an affordable and reliable way of getting from one point to another. That's not a bad thing, but the Corolla never really appealed to enthusiasts wanting something a little more exciting to drive (although there was that business with the legendary AE86 in the 1980s...). Toyota's looking to change that.
In an interview earlier this week, Sean Hanley, the head of sales and marketing for the Japanese automaker's Australia division, told Motoring that a performance version of the Corolla Hatchback was a matter of when and not if.
The Corolla Hatchback, or the Auris depending on what part of the globe you're on, was unveiled at this year's New York and Geneva auto shows, respectively, and shows a more playful side of the Corolla lineup. While the hatchback should be more enjoyable to drive than any modern Corolla that comes to mind, Toyota is considering the option of making it even more potent.
If what Hanely told Motoring is true, Toyota would probably hand the vehicle over to Gazoo Racing, the company's fledgling performance sub-brand. GR was launched last year in Japan and acts as Toyota's official motorsport arm. The brand also offers performance parts for Toyota's cars and high-performance vehicles of its own that are based off of Toyotas.
GR may not sound like the real deal, but its first offering, the Yaris GRMN – GRMN stands for, and this doesn't help our case in proving that the brand's a serious competitor, Gazoo Racing Meisters of the Nurburgring – is a full-blown hot hatchback. The GRMN-badged Yaris competes in the same segment as the Ford Fiesta ST and Volkswagen Polo GTI.
If GR were to go over the Corolla Hatchback with its performance parts, the model would be a real rival to the Focus ST, Golf GTI, and Hyundai Veloster N. Hanley didn't provide a real timeline for when a hotter version of the Corolla Hatchback would come out, but did state that a vehicle could be out within the next three years.
While we're psyched about the Corolla Hatchback, we have to point out that Hanley was talking about an Australian vehicle. GR primarily builds vehicles for specific regions, the Yaris GRMN, for instance, is sold in Europe, but not in the US. So, there's a chance that a performance-oriented Corolla wouldn't make its way to America. And if it did, it could be branded under a different name, like TRD.
If you're not interested in waiting for something that might not be coming, the new Corolla is expected to go on sale later this summer.