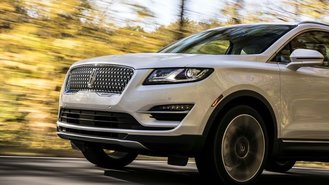 For the 2019 model year, Lincoln grafted the new Navigator's face onto the MKC, the brand's smallest SUV. The American automaker also endowed the crossover with new technology. All of the changes, understandably, have resulted in a vehicle that costs more than before.

Thanks to a few order guides, we know that the new MKC costs $640 more than the 2018 model. The entry-level MKC Premiere was priced at $34,280, including a $925 destination fee, for 2018.
For the new model year, that figure has increased to $34,920. Pricing for the Select trim has gone up by $640, as well from $37,035 for the outgoing model to $37,675 for the new MKC. The Reserve trim now costs $41,550, up, once again, $640 from the old model.

The range-topping Black Label trim sees a more drastic increase in pricing. The 2018 model was priced at $46,900, while the new one carries a price tag of $48,125. That's a price difference of $1,225.

All of the above prices are for MKC crossovers with front-wheel drive. Adding all-wheel drive to any model is an extra $2,410. That figure remains the same from last year.

Pricing for the MKC isn't the only thing that has changed for 2019. The 2.3-liter turbocharged engine rated at 285 hp is only available on the Reserve and Black Label trims with all-wheel drive.
The amount of money required to move from the turbocharged 2.0-liter inline-four to the larger 2.3-liter remains the same, though, at $1,140. Previously, the engine was available on all models except the entry-level Premiere that sent power to all four wheels.

When it comes to its competitors, the 2019 MKC, even with the price increase, is priced competitively. The MKC costs less than the Acura RDX, Volvo XC40, Mercedes-Benz GLC 300, Audi Q5, and Infiniti QX50. Lincoln's option, though, is more expensive than the Audi Q3 and Mercedes-Benz GLA 250.