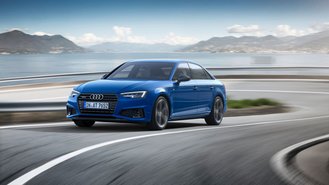 Say goodbye to Audis with a manual transmission, as the German automaker has killed the shift-it-yourself gearbox for the 2019 A4 and A5, reports Car and Driver. These were the last vehicles that Audi sold with manual transmissions, so it's the final step in the brand's movement to go all-in on automatics.
The reason, as the outlet points out, is simple – there wasn't enough customer demand for vehicles with the manual option. Car and Driver reports that only five percent of customers in the US went with the six-speed manual transmission in the A4 sedan over the seven-speed dual-clutch automatic unit.
It's a sad, sad day, as the manual transmission not only made the vehicles much more engaging to drive, but also got them to 60 mph slightly quicker. As Car and Driver points out, the A4 with the manual transmission was a 10th of a second quicker to get from zero to 60 mph than a comparable model with the dual-clutch transmission.
Audi's move to stop selling manual transmissions in the United States is part of a larger trend, as consumer demand for the gearboxes continue to drop. According to data from Edmunds, cars equipped with a manual transmission accounted for only two percent of new vehicles sales this year.
There's some good news, though, as Car and Driver claims that there are a bunch of A4 and A5 models with manual transmissions available throughout the country. If you find one in your area that has the features you want and is priced within your range, our advice is to pounce on it, because it could be the last time we see an Audi with a manual transmission in the near future.
If you're one of the few consumers that enjoys going through a car's gears yourself, there are a few luxury brands out there that will continue to offer manual transmissions for the prolonged future. Cadillac, BMW, Porsche, and Genesis (with the new G70) have manual transmission options for its vehicles.