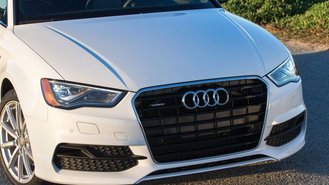 The effects of Volkswagen Auto Group's dieselgate scandal are becoming more far reaching every day. It has resulted in billions of dollars in fines, tons of jobs lost, and huge profit losses already. Now, a new report from Auto Motor und Sport says that it is causing the delayed release of two important Audi models.
The publication claims it spoke with an unnamed person within Audi who said: "We are behind in time planning with the next stage of vehicles to be based on the MQB architecture." According to Automotive News, this delay will push the new-generation A3 and the all-new Q4 back to 2017 and 2021, respectively.
The reason for the delay? Simply said, Volkswagen Auto Group engineers are just too busy trying to fix its rigged TDI engines to spend time developing the new gasoline and diesel engines Audi has planned for these vehicles.
This delay could seriously impact Audi's bottom line, as the A3 is Audi's top-selling model in Europe and the Q4 was supposed to draw in defected buyers from BMW and Mercedes-Benz.
In addition to these two delays, the scandal has also massively impacted Volkswagen's ability to participate in various racing events in the future. Volkswagen has announced that it'll pull out of World Rally Championship at the end of 2016. An even bigger shock is Audi's exit from World Endurance Championship (read: 24 Hours of Le Mans) racing, a series it's been a massive part of since 1999. Audi will, however, turn its focus to electric car racing in Formula E.
We'll continue monitoring the impact of the dieselgate scandal on VW Auto Group and bring you updates as they become available.