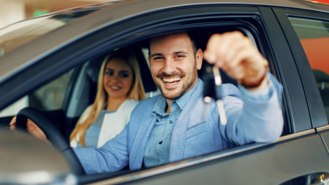 The average price of a new car is more expensive than ever. Interest rates and the duration of loan terms are also at an all-time high, which means that it's not the exactly the best time for consumers to purchase a new vehicle. Edmunds recently conducted a study looking into transaction and finance data across the United States to find where buyers were the most responsible.

According to the study, Massachusetts, Connecticut, Michigan, Rhode Island, and New Jersey were home to the most responsible car buyers. Mississippi, Oklahoma, Arkansas, Alaska, and New Mexico were toward the bottom of the list.

What is a responsible car buyer? According to Edmunds, it's someone that has low trade-ins with negative equity, doesn't owe a lot of money on their trade-in, has a short loan term, and manages to get a low annual percentage rate. Consumers in Connecticut managed to have just 10 percent negative equity on their trade-ins and also owed the lowest amount on the vehicles they traded in, $4,500. The average loan term length was 64.2 months in the state, which was also the lowest for the country, while annual percentage rates were just 4 percent.

Negative equity refers to the amount you still owe after you trade your car in for a newer model. If your car is worth $18,000, but you still owe $20,000 on your loan, you have a negative equity of $2,000. Some dealers will work negative equity into another car payment, but that raises the price of your monthly payments and would even be financed into your new loan. With the average price of a new car hovering around $36,000, adding negative equity on top of a high monthly payment pretty much ensures that you'll always owe more than what your car's worth.

There are a few things consumers can do to ensure they're being smart about a new-car purchase. The first thing is to try to keep your loan term short. While spreading the cost of a vehicle over a longer term may lower your monthly payment, you'll probably end up paying more interest on the loan and paying for higher finance charges. The national average length for a loan term is currently at 69 months.

Shopping around for a car loan is also a good tactic to use. Some banks and financial institutions may provide you with a better rate than a dealership, which is important as interest rates for car loans are currently on the rise.

Lastly, leasing should be considered a valid option for consumers that get tired of a car after a few years. If you plan on trading a car in before the end of a 60-month loan term, leasing is a great way to ensure that you won't end up with negative equity on a car that you're ready to get rid of.