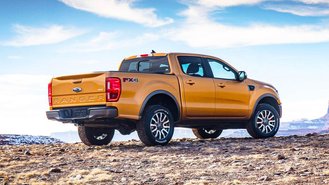 Ford plans to hold onto its place as the king of pickup trucks by adding a new compact pickup to its US lineup by 2020, claims a report by Automobile magazine. The pickup would slot below the Ford Ranger, which is expected to go on sale next year, and be based on the next-generation Focus platform.
The outlet cites unnamed sources that are well versed in Ford's future plans when it states that the compact pickup will have a unibody construction and replace the now-dead Fiesta-based Courier pickup that the automaker sold in Brazil until 2013.
The reasoning behind coming out with a compact pickup truck is pretty simple, Ford is no longer the clear winner in the pickup war. As Automobile points out, Ford is having a fantastic year with its F-Series lineup, selling 451,138 units in the first six months of 2018. Chevrolet, though, is ahead with a total of 478,671 pickups sold. This figure is being helped by the Chevrolet Colorado, which saw an incredible jump of 38.9 percent increase in sales this year over the same six-month period from 2017.
While the Ranger will help Ford recoup some sales when it hits dealers next year, adding another vehicle to its lineup won't hurt. And, adding a smaller option could even draw new buyers to the brand.
Ford spokesman Mike Levine gave The Car Connection a statement:
"While we don't comment on speculation about future products, we are significantly expanding our North America lineup with all-new vehicles and entering new segments with fresh designs and white space silhouettes that will position us for even more growth."