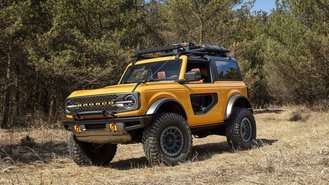 Everyone knew the all-new Ford Bronco would be a hit, but no one knew that it would be this popular. With so many people reserving one of the brand's rugged off-roaders, the wait, according to Car & Driver, has now reached 18 months before consumers will be able to get their hands on a model. If you haven't made a reservation for a Bronco yet, you could be waiting until 2022 before it arrives at your door.
On the night that Ford announced the Bronco after a roughly 25-year hiatus, the automaker's website crashed as visitors flocked to reserve an SUV with a $100 refundable deposit. Ford sold out of all of the 3,500 pre-order slots for the Bronco First Edition within 24 hours, so Ford doubled production of the First Edition. It didn't take long for the other 3,500 First Edition units to be claimed.
For consumers that have put a deposit down, or are planning to, the process to turn the reservation into an actual order will take place this December. Reservation holders will have to work with their local dealer to iron out the details. Ford's website states, "initial Bronco 2 and 4-door deliveries are targeted to begin in June 2021." June 2021 was the original timeline that the automaker was working with. But with so many reservations, Ford's pushing the date back. "Due to the high number of Bronco 2 and 4-door reservations, deliveries may extend into the 2022 calendar year," claims the site.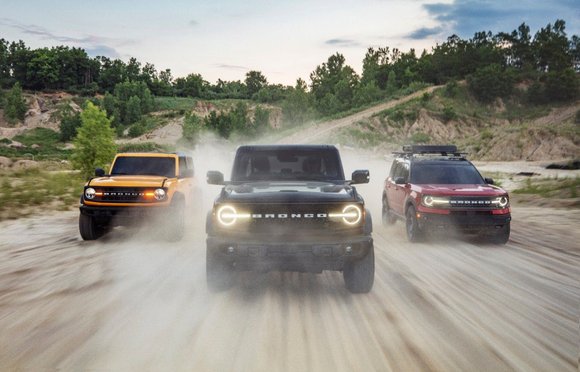 Despite some consumers having to wait until 2022 to get their Bronco, Ford still believes that it's sticking to its original timeline. "We said first deliveries would start in spring 2021," an unnamed spokesperson told Car & Driver. "That's still correct."
This isn't what usually happens, but Ford has received so many reservations and so much interest in the Bronco that there's nothing the automaker can do. It could've limited production of the Bronco First Edition to 3,500 units like it originally planned to, instead of doubling it to 7,000 units, but it's a little too late to do that now.
For consumers that are interested in getting a Bronco, Car & Driver claims that it's still best to put in a reservation instead of waiting for a model to show up at your local dealership. The unnamed spokesperson told the outlet that Broncos with reservations would be built ahead of orders for stock units. So, while you might wait a little longer to get your reservation, it won't be nearly as long as waiting for a model to land at a dealership.
Long wait times could possibly hurt Ford. Consumers reserved a model under the assumption that it would arrive in spring 2021. Making some reservation holders wait until 2022 could see a few reservations decide not to turn the reservation into an official order. But, if anything, the amount of interest the automaker has received for the SUV far outweighs any downsides.
The Bronco is the first real rival to the Jeep Wrangler in decades. It appears to offer just as much off-roading capability, while allowing owners to remove the doors and roof – something that's really only been possible with the Wrangler. Furthermore, the Bronco is a return of the nameplate that was offered from 1966 to 1996. Consumers have been waiting decades for Ford to bring the Bronco back, and now that it is, Ford has a lot more interest in the SUV than they expected.