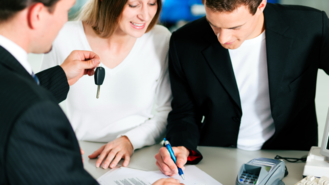 For consumers that want the latest and greatest in a vehicle, but don't want to worry about depreciation, leasing can be a more attractive alternative to owning. Unfortunately, consumers that are looking to lease a car in 2019 will have to pay more money.
In a report, Edmunds claims that the average transaction price to lease a vehicle in November 2018 was $37,188. That's nine percent higher than it was back in November 2015, as the average transaction price three years ago was $34,206. SUVs and pickup trucks may be more popular than sedans, but they're also more expensive. Pair that with higher interest rates, and you have the perfect recipe for higher leasing prices.
While lease prices will be higher than ever in 2019, a record amount of consumers are expected to be shopping around for one. In 2016, 4.3 million consumers leased vehicles, which is an all-time-high for a 10-year period stretching from 2008 to 2018. Of that total, Edmunds expects over four million vehicles to be returned, which is 300,000 more lease vehicles that were returned this year.
What this means for consumers that got a great deal on a lease back in 2016, unfortunately, is that they'll probably end up paying a lot more money to lease a car in 2019. Surprising no one, consumers are expected to lean toward SUVs when searching out a vehicle to lease. In 2018, 1.99 million SUVs were leased, while in 2017 only 1.89 million were leased. The number of cars that are being leased is decreasing, as cars accounted for 1.59 million leases in 2017. This year, only 1.21 million consumers leased a car.
With vehicle prices at an all-time high, thanks in part to more technology, the popularity of SUVs, and more advanced engineering in terms of powertrains, consumers may be pushed toward the used car market. Prices for used cars, though, are also at an all-time high.