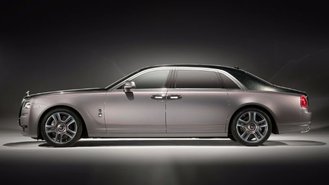 Think Rolls-Royce, and you'll either think of a car built from nothing but the best materials, or a car that gives a new meaning to excess. With a new paint made from diamonds, those perceptions are likely to remain intact.
Rolls-Royce announced Monday it has painted one Ghost model using 1,000 crushed diamonds. Called "Diamond Stardust," it's a first for any automaker, according to the company. The unnamed-but-insanely-wealthy customer is allowing the car to be shown at the Geneva Motor Show.
The company says it created the paint from 1,000 "ethically-sourced" diamonds that were subjected to a rigorous inspection to test for radiance before they were crushed into a fine powder that was mixed into the paint. Rolls-Royce's paint shop then applied an extra layer of lacquer than is normal for the Ghost, the company said.
This particular car is meant to showcase the "Bespoke" process that Rolls-Royce offers to its customers, which allows them to customize their car depending on certain paint or upholstery tastes. After all, if you're spending hundreds of thousands of dollars on a car, you'd like it to be a little more special than the one that's parked on a dealership lot. Now, how long until someone orders a Wraith with upholstery made from shredded $100 bills?