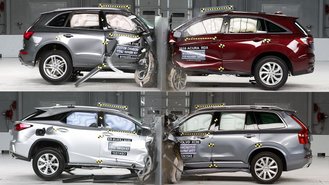 The technology making new cars safer than ever before is also making them less worthwhile to be repaired after a crash.
That's the latest from a new report from Bob Tschippert, senior vice president of underwriter Risk Theory, who told Automotive News this week the expensive airbags and crash-sensing technology being added to new cars is increasing the amount of vehicles being declared "totaled" by insurance companies.
"In the past, if you had a front-end collision, you had damage to the engine or the front end," Tschippert said to AN. "But now, with the number of airbags that can run from $1,000 up to $4,000 and all the sensors up front, you're seeing more totals."
The airbag situation has also been complicated by the wave of Takata airbag recalls that have made some parts more difficult to find and insurance companies more likely to declare a vehicle a total loss if the airbags were deployed in a crash.
While many of the new technologies are implemented to avoid a crash altogether, minor collisions are now more of a problem for both drivers and insurance companies.