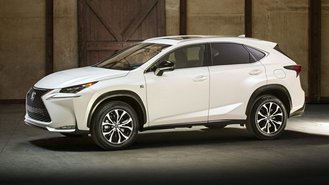 The newest Lexus on the block happens to be the all-new 2015 Lexus NX 200t, a smaller and more affordable version of the wildly popular 2015 Lexus RX 350 luxury crossover. Sales of the entry-level luxury crossover continue to rise, and it's making a solid run at the leaders in the growing segment. The numbers, released earlier this week show that year-to-date sales for the new NX 200t out-paced the BMW X3, Audi Q3 and Mercedes-Benz GLA 250.
Compare Compact Luxury Crossovers »
2015 Year-to-Date Sales
| | | | |
| --- | --- | --- | --- |
| | January 2015 Sales | February 2015 Sales | Total |
| 2015 Lexus NX 200t | 2,182 | 2,666 | 5,478 |
| 2015 Audi Q3 | 873 | 1,046 | 1,919 |
| 2015 Acura RDX | 3,517 | 3,862 | 7,379 |
| 2015 BMW X1 | 518 | 885 | 1,403 |
| 2015 Mercedes-Benz GLA250 | 1,878 | 1,873 | 3,751 |
*Source: GoodCarBadCar.net
And this month, Lexus has announced a surprisingly rare incentive on the NX 200t. Lexus is offering to pay for the first lease payment of the NX 200t (up to $700) with their popular Complimentary Lease First Lease Payment (CLP) that has just been extended to March 31, 2015. Moreover, you can lease one for $369/mo for 36 months with $4,999 due at signing. That's a good deal, especially when you consider that incentives are rarely offered on all-new vehicles, let alone a Lexus.
Research: 2015 Crossover Buying Guides >>
Let's take a look at how the incentives break down for this competitive segment:
March 2015 Deals & Incentives
Note that although the lease payment for the NX is not the lowest, it's still out-pacing the rest of the pack as evidenced by the sales chart for the year.
Better Incentives Coming?
So where does that leave the prospective compact luxury crossover shopper? Well, incentives for the first two months of the year have been solid, with Acura RDX sales soaring even before the new 2016 model gets released later this October. Acura has put special programs in place intended to assist dealerships to enhancing pricing and provide bigger discounts on models like the RDX, especially those equipped with their highly-coveted Technology Package. Quick Quote on 2015 Acura RDX >>
In terms of Audi, BMW and Mercedes-Benz, incentives might also improve to help remain competitive, especially in the crossover segment.
Deals and incentives on the NX 200t will also improve as the pent-up demand for the model cools, just in time for the spring and summer selling season.
The bulk of this incentives for March have either maintained or improved from last's months deals, which is a strong indicator of where the market is headed. Furthermore, if analyst projections of 17 million auto sales are to be reached this year, incentives will have to steadily improve.