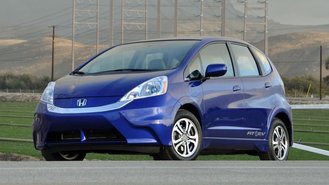 Earlier this morning, Honda announced a lease special for the 2014 Honda Fit EV. The thing is, they were recently discontinued. Which means that you have to lease a used one. Now, we've never seen a lease special on a used vehicle, let alone an electric one. Which left some at the office questioning the value of such a deal. Should you kick around the idea of leasing a used Honda Fit EV? Maybe. Maybe not.
Learn more about car leasing here »
Details of the Honda Fit EV Lease
The lease mentioned above is only good for the following:
Existing Fit EV Lessees: Two-year lease extension for $199/mo
Prospective Fit EV Lessees: $199/mo, $0 due at signing
But that's only the tip of the iceberg. In both instances, there is no silly 12,000 mileage cap--huge for those who commute more than the typical twenty miles to and from work. In addition, though sparse, routine maintenance is also included. The kicker is that collision insurance is also thrown in for the small $199 monthly lease payment on the Fit EV.
Moreover, current Fit EV lessees who pay $259/mo as outlined in their initial lease contract will now only have to pay $199 per month should they opt for a 2-year extension. And according to Honda, they will:
"Most Fit EV drivers tell us they love their vehicles, and many have requested lease extensions and this extended lease program is intended to meet their needs," said Steve Center, vice president of the Environmental Business Development Office, American Honda Motor Co., Inc.
Other Lease Deals & Incentives on EVs
Don't want to lease a used Honda Fit EV? Don't worry, deals are available. And so are local and federal credits, but time is running out.
| | | | | | | |
| --- | --- | --- | --- | --- | --- | --- |
| Electric Only Models | MSRP | Lease Incentive | Lease Payment | Purchase Incentive | Local EV Incentives | Insurance |
| 2014 Honda Fit EV (used) | $36,625 | N/A | $199/mo | N/A | N/A | Included |
| 2015 FIAT 500e | $32,700 | $1,000 LBC | $139/mo | $2,000 Rebate | $2,500 | N/A |
| 2015 Ford Focus Electric | $29,995 | $500 LQBC | $189/mo | $3,500 Bonus Cash | $2,500 | N/A |
| 2015 Nissan LEAF | $29,860 | $8,750 LBC | $199/mo | $3,500 NMAC Cash | $2,500 | N/A |
| 2015 Mitsubishi i-MiEV | $23,845 | N/A | $169/mo | $500 Loyalty Bonus | $2,500 | N/A |
Search for more new car deals in your area here >>
Buy, Lease or Fit?
So should you buy or lease one of the models above or should you opt for a used Honda Fit EV? If you like the idea of not having a mileage limit, we'd go with the used Honda Fit EV. Heck, collision insurance is included, too. If you don't like the idea of leasing a used vehicle, you can always opt for one of the models above. The i-MiEV is the most affordable EV on the market while the Focus Electric is the most-fun-to drive EV--aside from the Tesla Model S. But that's over twice the price.