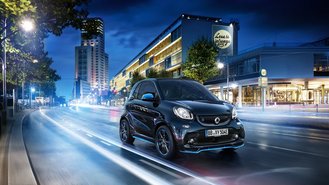 Mercedes-Benz is launching a new brand for it electrification efforts called EQ, and the all-electric Smart brand, with its US-market ForTwo and European ForFour, is the first to join the fun. The new brand is more of a marketing shift than a slew of new products ­– at least for the time being.
"Smart is electric, innovative, intelligent and totally unique, or in three words each: 'Smart EQ ForTwo' and 'Smart EQ ForFour,'" says CEO of smart Dr. Annette Winkler. "With the Smart EQ ForTwo and ForFour, we are putting the first products from the Mercedes-Benz Cars EQ family on urban roads and showing how much fun electric mobility can be.
The Smart EQ products are the first models produced for the EQ brand, which will help lead Mercedes' overall plan to offer 10 all-electric vehicles by 2020. Smart is celebrating its EQ involvement with unique NightSky edition models that feature Brabus exterior styling. Sadly, the special editions won't be available in the US.
Mercedes is planning for EQ-specific models, too. The EQC, previewed as the Concept EQ at the 2016 Paris Motor Show, enters production in 2019.
The smart EQ ForTwo will go on sale as EQ-branded products with both coupe and convertible body styles starting later this year. Mercedes will make pricing information available closer to launch.