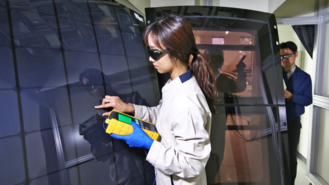 There's been talk of putting solar panels on top of cars for a few years now, and some automakers even offer solar panels on roofs as an option. While the technology hasn't become mainstream yet, Hyundai and Kia are looking to change that by adding solar panels to the roof on select vehicles.

The South Korean automaker claims that it is developing three types of solar roof systems: a first-gen silicon solar roof system, a second-gen transparent solar roof system, and a third-gen lightweight solar-lid on the car's body. The solar roofs will also have a specific application. The first-gen system will placed on hybrid vehicles and, depending on weather, will be able to charge 30 to 60 percent of the car's battery.

Cars with a good ol' internal combustion engine will get the second-gen semi-transparent solar roof system, which Hyundai claims is a first. The panel will be integrated into a panoramic roof and help bring in extra light, as well as charging the car's battery.

Lastly, the lightweight solar-lid system is only for battery-powered machines and will see electric cars gain solar panels on the roof and the hood in an attempt to maximize on real estate.

Hyundai states that the first generation of its tech will come out after 2019 and help the brand boost its vehicles' fuel economy, while meeting regulations.

Solar panels on vehicles aren't exactly new. When the 2010 Toyota Prius appeared on the scene, it was available with an optional solar panel roof, which it continues to do on the 2017 Prius Prime plug-in hybrid. But it's exciting to see more brands branch out with the technology.

Hyundai, for instance, is on the verge of selling the new Kona EV, which boasts a range of 258 miles on a charge. Incorporating a solar panel onto the crossover's roof and its hood would help decrease some of the range anxiety that new electric-vehicle owners feel when making the switch from a gasoline-powered machine. Since Hyundai and Kia share a lot of the same parts, solar panels could make their way onto the upcoming Kia Niro EV, too.