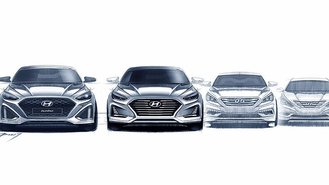 Shopping for a Hyundai Sonata? You may want to hold off a little longer until you see the revised version that's just around the corner.
Hyundai showed some vague sketches featuring the look of the new Sonata, but a photo of the real thing has appeared on the internet, as shown on Motor Authority. The 2018 Sonata will get a new grille and some new lights reminiscent of what Hyundai showed on the 2018 Hyundai Elantra GT at this year's Chicago Auto Show.
It's too early to tell what mechanical or equipment changes might be bound for the facelifted Sonata, but expect them to be relatively minor and limited to technological advancements. A new 8-speed automatic transmission may go into at least high-trim Sonatas to improve fuel efficiency and performance, and some more horsepower is always a safe bet.
If you're looking for a bargain on a family sedan such as the Sonata, expect discounts to improve after the 2018 model is shown, which will be great if you want a good deal on an outgoing model. But if you have your heart set on a Sonata and don't want to have an outdated model after just a few months, we suggest waiting and seeing what changes Hyundai makes.
We expect Hyundai to introduce the 2018 Sonata in April at the New York Auto Show.