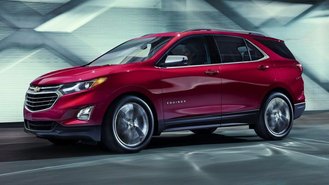 Compact crossovers are one of the biggest segments in today's auto industry, and for General Motors, that means the 2018 Chevrolet Equinox is one of its most important vehicles. So you can imagine a strike at the Canadian factory responsible for the recently redesigned crossover would be classified as a "Very Bad Thing." And it could be.
Unifor, the labor union representing Canadian auto workers, initiated a strike at the home of Equinox production, CAMI Assembly in Ingersoll, Ontario, on September 17, Automotive News reports. With assembly halted as employees man the picket lines, inventory levels for the Equinox, which has already sold over 212,000 units as of October 1, inventories are falling.
According to Automotive News, GM's stock of Equinox models is down from June's 66-day supply – around 74,400 units in total – to just 44 days, or 43,453. That is a worrying stat for Chevy, although you wouldn't know it based on the company's current behavior.
According to an analysis by CarsDirect's Alex Bernstein, GM continues to aggressively incentivize Equinox sales. In major markets like California, Florida, and New York, the volume Equinox LT is available with up to $4,750 in cash incentives. That's in addition to a supplier pricing agreement available to Costco members, which runs through January 2 and includes a cash card worth up to $700.
Despite the strike, GM doesn't see a significant problem for Equinox supply, with a spokesperson telling AN that it believes it has an adequate supply to get through the strike. Negotiations between General Motors and Unifor are ongoing.