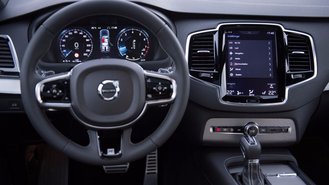 Advances in technologies that mitigate driver error or weariness have been rapidly accepted by automakers. Drivers, though, are less eager.
The Insurance Institute for Highway Safety released a survey last week that revealed systems intended to warn or prevent a vehicle from leaving its intended lane are turned off nearly half of the time. Various lane departure warning or prevention systems make an audible alert to warn the driver if the vehicle is veering out of the lane without indicating or actively turning the wheel. Active systems can also move the wheels to keep the car in the lane. Warnings that produced a physical intervention were more likely to be turned off than those with just an audible one, according to the study.
But drivers in this IIHS study are largely turning those systems off in many vehicles, if they can find out how to turn it off. Volvo XC90 drivers in the study used the active lane departure prevention system on 86 percent of the time because, IIHS says, the control is hidden in a submenu rather than a physical button on the dash.
Lane departure warning systems are a key criteria in the IIHS' advanced crash avoidance ratings – if car makers want a Top Safety Pick Plus rating, they need lane departure systems.
Yet forward collision warning or prevention technologies have seemed to irk drivers less, as most of those surveyed by IIHS kept those systems on. Those, unlike lane assists, have been proven to reduce collisions by up to 20 percent.
More and more vehicles are likely to be equipped with driver assistance technologies as standard equipment in the near future. But drivers apparently aren't huge fans of them yet.