Modern cars have made the greatest strides when it comes to safety. Not performance, fuel efficiency, or comfort, but safety. New technology and more advanced airbags have helped make cars safer than ever. While one would assume that more airbags results in a safer vehicle, a study conducted by the Insurance Institute for Highway Safety (IIHS) reveals that knee airbags aren't that helpful.
As the institute lays out, knee airbags deploy from the lower part of the dashboard and help reduce leg injuries by distributing impact forces. Knee airbags further help reduce injuries during an accident by keeping a passenger's lower body movement to a minimum. While that's in theory, the result in much different in practice.
The study found that knee airbags only had a small effect on injuries from automobile incidents in the institute's driver-side small overlap front and moderate overlap front crash tests. In crashes that involved the small overlap front test, the deployment of knee airbags actually increased lower leg and right femur injuries. Head injuries, though, were slightly reduced. In moderate overlap crashes, knee airbags had no effect on injury measures.
In the real world, knee airbags accounted for just half a percentage point reduction in overall injury risk. The IIHS' official figure is 7.9 percent to 7.4 percent, but it claims the number isn't "statistically significant."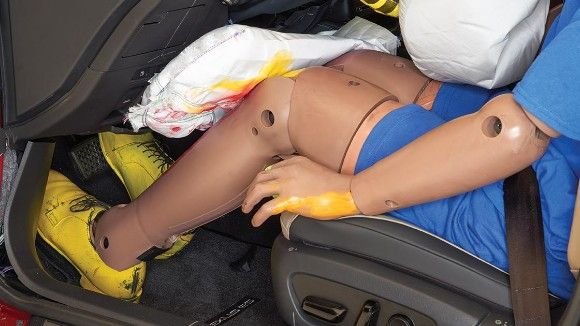 To obtain its findings, the IIHS examined approximately 400 front crash tests that it conducted as part of its vehicle ratings program. The main area of focus was to look at whether injuries were less likely for cars that had knee airbags. When it came to real-world crashes, the organization assembled crash reports from 14 states and compared injury risk for cars with knee airbags against those without them.
Knee airbags are standard on a lot of vehicles and are available on others. Knee airbags are standard on the BMW 330i Sedan that starts at $41,745 (all prices include destination), standard on the base Toyota RAV4 that costs $26,770, standard on the entry-level Honda Accord that's priced at $24,650, and standard on the Chevrolet Sonic LT Hatchback that starts at $18,895. There are many, many more cars that come with knee airbags, as they're usually bundled with other airbags.