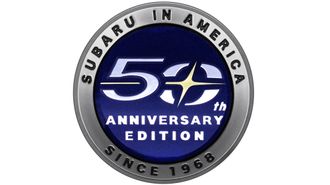 Anniversaries are a momentous occasion for automakers and a lot of them plan something special to mark the affair. Next year marks Subaru's 50th year in the US market, and the Japanese automaker will celebrate its golden anniversary with a range of limited edition models.
While the automaker didn't reveal a lot of information on the special cars, we do know that there will be a limited-edition trim for every single model in the automaker's lineup. That means we'll see special WRX and BRZ models, in addition to more mainstream models like the Forester and Outback According to Subaru, the cars "will feature a new, common color which will be based on a high-level trim and will come with special badging."
Besides that cryptic announcement the limited-edition cars are a mystery. With the 50th anniversary considered the golden anniversary, we wouldn't be surprised to see a special gold paint scheme and perhaps black wheels, but that's purely speculation on our part. We'll find out much more when Subaru shows its slate of anniversary models in February, at the 2017 Chicago Auto Show.