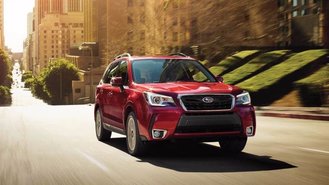 Subaru's reputation for attracting outdoorsy environmentalists makes it odd that there isn't an electric vehicle of any kind in the lineup. That is set to change as soon as next year.
Yet while rival companies are set to introduce dedicated vehicles to showcase electric technology, Subaru will adapt its traditionally gasoline-powered models to EV powertrains, Bloomberg reported. That means we could one day see all-electric versions of some of Subaru's most popular models, like the Forester and Outback, although it's too soon to make clear predictions.
"Providing the choice of an EV means the customer can still desire the same Subaru," Chief Executive Officer Yasuyuki Yoshinaga told Bloomberg.
As a relatively small company, Subaru doesn't have the resources to develop a dedicated EV such as a Nissan Leaf or Chevrolet Bolt. Its only hybrid, a version of the Crosstrek, was dropped last year.
But increasing average fuel economy requirements and tighter emissions laws will require Subaru to introduce something electrified, and it plans to start with a plug-in hybrid next year and a full EV in 2021, according to Bloomberg. As of now, it's unclear what that model could be, but the company is set to introduce the three-row Ascent crossover in 2018.
Still, Subaru fans who are also interested in cleaning up tailpipe emissions can take comfort in the fact they won't have to defect from their beloved brand to drive electric soon.