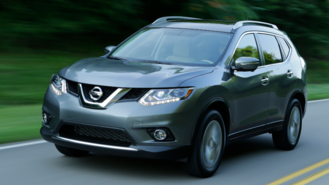 It's no secret that SUVs and crossovers of all sizes are extremely popular nowadays. Parking at a local grocery store, Starbucks, or mall reveals just how desirable high-riding, tall vehicles are at the moment. Unsurprisingly, Edmunds came out with a report that reveals there's no end in sight for the popularity of utility vehicles.
In a lengthy report, Edmunds claims that SUVs will account for 50 percent of all new vehicle sales in 2019. Cars, which we're guessing refers to sedans and coupes, will only account for 26 percent of new vehicle sales. Surprisingly, trucks, despite the increase in smaller and more affordable mid-size options, will make up 18 percent of sales next year. Vans will bring up the rear with only five percent of the market. If you're wondering when SUVs took over sedans as the more popular option, it was back in 2016.
The outlet's data also reveals that more owners are trading in their cars for a light truck. In 2018, 48 percent of car owners traded their vehicle in toward the purchase of a SUV or pickup truck. That's five percent higher than 2017 and nine percent higher than 2016. In 2015, only 36 percent of car owners traded their sedans or coupes in for a SUV or a pickup truck.
Edmunds didn't provide any information on where or how it gathered its data.
There are a few reasons that point toward why SUVs are more popular than cars. First off, the price of gas is still relatively cheap. According to the American Automobile Association, or AAA, the national price of gas is $2.37 per gallon. So those big, hulking vehicles aren't as expensive as they once were to drive. Plus, automakers have fitted modern crossovers and SUVs with fuel-efficient powertrains, so if gas prices do rise, consumers' wallets won't take too much of a hit.
SUVs are also easier to get in and out of, which is why they're a large hit with older drivers. While enthusiasts bemoan a higher seating position, it's one of the characteristics that make SUVs easier to drive than cars, and therefore more popular with many people. Then there's the ability to get seven-passenger SUVs that still offer decent cargo with all three rows in place, while sedans only offer seating for five and a typically much smaller cargo area.
If you compare the Honda Civic (a compact sedan) against the Honda HR-V (a subcompact crossover), there are major upsides to the utility vehicle. The HR-V costs more money, as it's roughly $1,000 more than the Civic, but it's more fuel efficient. Consumers can also add all-wheel drive to the HR-V, while the Civic is front-wheel drive only. When it comes to versatility, the HR-V has 24.3 cubic feet of cargo space with the rear seats in place, which expands to a total of 58.8 cubic feet with them folded. The Civic's trunk can only hold 15.1 cubic feet of cargo.
SUVs and crossovers are generally more versatile, easier to drive, and have more space than sedans, but they're often more expensive. The only feature that consumers can add on an SUV or crossover that you can't typically find on a sedan is all-wheel drive, which is why some automakers have started to add it as an option on their more affordable offerings. SUVs, because of their size, also often have better safety ratings than sedans.