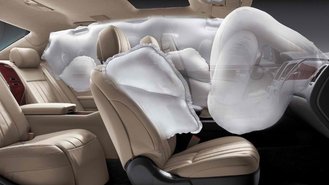 A media firestorm has erupted within the past 48 hours in the auto industry, as one of the most far-reaching recalls in U.S. history is taking place. And it's happening right now. The scrutiny is well-warranted: millions of Americans and their vehicles have been affected, as airbag manufacturer Takata has agreed to double the initial recall of 17 million vehicles to 34 million vehicles.
Safest Crossover You Can Buy »
Note that equates to 13% of the 250 million vehicles on the road today. And the cars, trucks and crossovers affected aren't simply Honda vehicles. They're BMW's. And Chryslers. And Nissans. And they're all going to be hitting the road as the summer road-trip season kicks off this Memorial Day Weekend.
Honda Aims for 100% Recall Repairs »
Troubling Trend
One thing that is really disconcerting to us is the fact that some owners are simply disabling their airbags in fear of shrapnel getting hurled at them should they be involved in an accident. We won't dive into how their going about doing so, because we don't want anyone reading this article to go out and try it. This is flat-out the worst thing someone could do.
Yes, five people have lost their lives due to the defective inflators, but airbags have saved thousands upon thousands of lives since their inception in 1980 (the 1980 Mercedes-Benz S-Class was the first car to feature a driver-side airbag).
Department of Transportation Announces Steps
The DOT has announced steps to follow for determining whether or not your vehicle needs recall repairs and have taken the extra step by setting up new easy-to-use portals for owners. You'll need your VIN (Vehicle Identification Number) which is located either on the driver-side door jamb or on the driver-side dashboard (viewable through the front of the windshield).
Manufacturers Are Trying
Yes, the whole airbag recall is troubling, but that's not to say that manufacturers are not trying to do their part. In fact, Honda and Acura both are trying hard to get current owners to bring their vehicles. The entire upgrade is paid for by the dealership, at no cost to the owner, sans 30 minutes to an hour worth of lost time.
But some owners simply are not paying attention. If your car is on this list, or if you are unsure, take some time out of your day to pick up the phone and call to find out. Your life, and the lives of your children, spouses, friends and families depend on it.
In all, the models affected by faulty Takata airbag inflators are as follows:
2004-2006 BMW 325Ci
2004-2006 BMW 325i
2004-2005 BMW 325Xi
2004-2006 BMW 330Ci
2004-2006 BMW 330i
2004-2005 BMW 330Xi
2004-2006 BMW M3
2005-2007 Chrysler 300
2005-2007 Chrysler 300C
2007 Chrysler Aspen
2005-2007 Chrysler SRT8
2005-2007 Dodge Charger
2005-2007 Dodge Dakota
2004-2007 Dodge Durango
2005-2007 Dodge Magnum
2004-2007 Dodge Ram 1500
2005-2007 Dodge Ram 2500
2006-2007 Dodge Ram 3500
2005 Dodge Dakota
2005 Dodge Magnum
2003-2005 Ram Pickup
2004–2005 Ford Ranger
2005–2006 Ford GT
2004–2008 Ford Mustang
2001–2007 Honda Accord
2001–2006 Honda Civic
2003 Honda Civic Hybrid
2002–2006 Honda CR-V
2003–2011 Honda Element
2002–2004 Honda Odyssey
2003–2008 Honda Pilot
2006 Honda Ridgeline
2003–2006 Acura MDX
2002–2003 Acura TL/CL
2005 Acura RL
2004–2008 Mazda6
2006–2007 MazdaSpeed6
2004–2008 Mazda RX-8
2004–2005 Mazda MPV
2004 Mazda B-Series Truck
2004–2005 Mitsubishi Lancer
2006–2007 Mitsubishi Raider
2001–2003 Nissan Maxima
2001–2004 Nissan Pathfinder
2002–2006 Nissan Sentra
2003–2004 Infiniti I30/I35
2002–2003 Infiniti QX4
2003–2005 Infiniti FX35/FX45
2006 Infiniti M35 and M45
2003–2005 Baja
2003–2005 Legacy
2003–2005 Outback
2003–2005 Impreza
2002–2005 Lexus SC
2002–2005 Toyota Corolla
2003–2005 Toyota Corolla Matrix
2002–2005 Toyota Sequoia
2003–2005 Toyota Tundra