Pickup trucks continue to be some of the most popular vehicles in the U.S. This isn't a new trend that started last month, but has been the case for numerous years. One thing that has recently changed with pickup trucks, though, is their fuel economy figures. Wards Auto recently outlined new technology that's helping pickup trucks be more fuel efficient than ever before, and here are some that caught our eye.
The most interesting piece of tech for pickup trucks has to be Ram's new eTorque 48-volt mild-hybrid system. While this isn't the first time an automaker has come out with a hybrid system for a pickup, Ram's is the only one in the market for trucks today. According to the outlet, the mild-hybrid option helps boost the truck's fuel economy rating by 2 mpg. The system helps the truck, when properly configured, to get up to 20 mpg in the city, 25 mpg on the highway, and 22 mpg combined.

Ram isn't the only automaker that's been working on making its trucks more efficient, but others, like Ford and General Motors, have taken different routes. GM's V8 engines have Dynamic Fuel Management, which is capable of deactivating six of the motor's eight cylinders. Being able to run on just two cylinders helps the Chevrolet Silverado and the GMC Sierra's 5.3-liter V8 eke out one more mpg. The EPA rates the Silverado with the 5.3-liter V8 to get up to 17/24/19 mpg (city/highway/combined).

While GM's Dynamic Fuel Management system is optional on the 5.3-liter V8, it's standard on the larger 6.2-liter V8 engine. The EPA hasn't released its fuel economy figures for the 6.2-liter motor for the 2019 model year yet. GM also has Active Fuel Management for its smaller engines, mainly the standard 4.3-liter V6, that shuts down half of the available cylinders. Again, fuel economy hasn't been announced for that engine yet.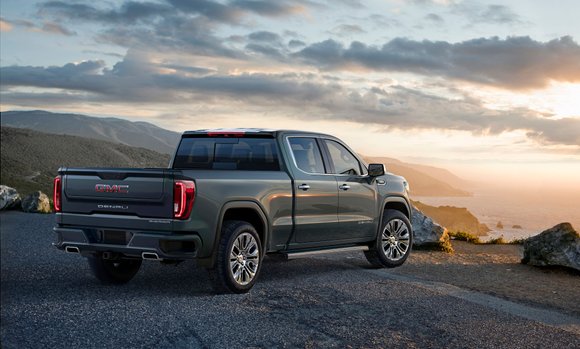 Another new move by GM is the introduction of the turbocharged 2.7-liter four-cylinder engine. Not only is it more powerful than the base 4.3-liter V6, but it's also more efficient. That engine is rated to get up to 20/23/21 mpg (city/highway/combined).

Lastly, Ford has been offering turbocharged engines in its popular F-150 for years, but has, instead, looked to the trucks' bodies as a way to get better fuel economy. The automaker uses aluminum for its truck bodies. Pair that with the smallest engine Ford offers, which is the turbocharged 2.7-liter four-cylinder, and you can get up to 20/26/22 mpg (city/highway/combined). Those figures continue to lead the way forward for full-size pickup trucks.