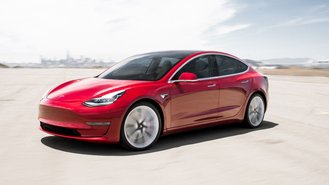 Tesla came out with a new software update called 10.0 that adds a bunch of cool features, like "Smart Summon" that gives the brand's electric vehicles the ability to go from a parking spot to pick you up, as long as the car is within sight and either the Full Self-Driving Capability or the Enhanced Autopilot box is ticked. Nifty stuff. But dig a little deeper, and Software Version 10.0 has some light-hearted traits, too, like a version of karaoke called "Car-aoke."

Caraoke, as it's called, fills the automaker's electric cars with "a massive library of music and song lyrics" in multiple languages to give passengers the ability to sing along to their favorite song. While everyone loves singing on a road trip, it looks like Caraoke only works when the vehicle is in Park. So you may not be able to do your best "Carpool Karaoke" impression, but you can still have a good time while you wait for your car to charge.
Software Update 10.0 is downright massive, bringing 17 different things with it. Our favorites, though, include Cuphead – Tesla Edition, which is a grueling run-and-gun game that owners can play via Tesla Arcade; a feature called Tesla Theater that allows owners to watch TV shows, movies, and videos via YouTube, Netflix, and Hulu account on the massive central touchscreen; "I'm Feeling Lucky" and "I'm Feeling Hungry" features that commandeer the car's navigation to route you to a local restaurant or point of interior that's close by.

Tesla didn't specify what models are eligible for the update, nor did it state whether older models would receive Software Update 10.0. All it did say, was that the update would take place over the air and will happen automatically based on your location and vehicle configuration. We're going to go out on a limb and assume that Telsa Model S sedans, Model 3 sedans, and Model X SUVs are all eligible for the update regardless of age.