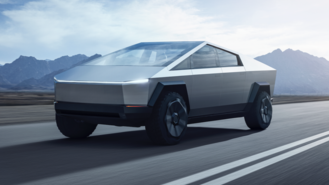 If it weren't for the massive wheels, one would swear that the Tesla Cybertruck is a flying vehicle that Sci-Fi movies have been promising us for years. Unfortunately, the Cybertruck has wheels, but it's still something that looks like it belongs on Mars and not on planet Earth. While not a spaceship, the Cybertruck is Tesla's take on an electric full-size pickup truck. It may look abnormal, but the funky truck is meant to handle all of the normal duties pickup truck owners tackle.
The Cybertruck's specs are just as radical as the truck's design. Three powertrain configurations will be available. The first is a single motor rear-wheel-drive set up that will see the vehicle be able to travel in excess of 250 miles on a charge. Getting from zero to 60 mph takes 6.5 seconds for the powertrain, while towing capacity is rated at 7,500 pounds. The dual-motor all-wheel-drive powertrain brings a range of 300 miles and a towing capacity of 10,000 pounds. Zero to 60 mph for that set up is 4.5 seconds. Lastly, a tri-motor all-wheel-drive powertrain is available that increases range to roughly 500 miles and towing capacity to 14,000 pounds. In that configuration, getting to 60 mph only takes 2.9 seconds.
With the range-topping three-motor layout, the Cybertruck has more towing capacity than a Ford F-150, which is rated to tow up to 13,200 pounds. The Cybertruck will also have much better performance, as the quickest F-150 can get to 60 mph in 5.1 seconds, according to testing done by Car & Driver.
The Cybertruck will be more than just a blisteringly quick towing machine, though, as Tesla claims the pickup will have great off-roading performance too. Thanks to a standard adaptive air suspension system and the funky design, the pickup has 16 inches of ground clearance. The truck's approach angle is 35 degrees, while its departure angle is 28 degrees.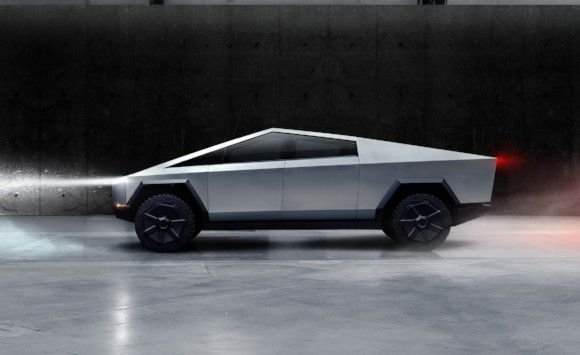 Consumers that do plan to go off-roading will be happy to hear of the truck's strong body, which features stainless steel alloy. At the truck's unveiling, Tesla CEO Elon Musk and other team members smashed the body with a sledgehammer with little effect. Musk even claims the truck can withstand small arms fire, but the driver's side window did break when a Tesla employee threw an object at it. Whoops.
At the back, the Cybertruck has a 6.5-foot bed that offers 100 cubic feet of space. More importantly, the pickup's bed can accommodate the brand's new ATV and charge it, too. Payload capacity is rated at up to 3,500 pounds, which is more than what the F-150 can haul.
On the inside, the Cybertruck has seating for up to six in what we're guessing is the traditional 3+3 configuration that other full-size pickups have. Since it's a Tesla, the Cybertruck wouldn't be complete without a massive touchscreen, but don't fret, the pickup features a 17-inch unit on the dashboard.
With its futuristic design, class-leading specs, and innovative list of equipment, we would've thought the Cybertruck would become the brand's most expensive offering, but that's not the case. Pricing for the single-motor rear-wheel-drive model starts at $39,900 (prices don't include destination). The dual-motor all-wheel-drive configuration costs $49,900, while the range-topping tri-motor all-wheel-drive model has a starting price of $69,900.
Since no other brand has an electric pickup on the market yet, it's difficult to say where the Cybertruck will land. But if Tesla manages to get anywhere close to the pickup's claimed specs, the Cybertruck will be an excellent alternative to a traditional full-size pickup. Production of the pickup won't start until 2021.