It's only been a few days since the reveal of the Tesla Cybertruck and it's already become the thing that people can't stop talking about. While the truck definitely has a polarizing design and the launch didn't go as smoothly as Tesla hoped it would – those windows breaking must not have been ideal – but the Cybertruck has already garnered a lot of attention, as Tesla CEO Elon Musk took to Twitter to announce that the electric automaker has already received 200,000 orders for the electric pickup.
The number of reservations has been climbing steadily, up from 187,000 on November 24, so it's highly likely that Tesla will surpass the 200,000 mark in the next few days. For a vehicle that looks like the Cybertruck does and goes so far against the grain compared to other pickups, that's an impressive number of deposits.
On November 23, just one day after the Cybertruck's launch, Tesla received 146,000 orders for the Cybertruck. But what was more interesting, was the spread of the configurations consumers were plopping money down for. According to Musk, 42% of orders were for the dual-motor configuration (300 miles), 41% were for the range-topping tri-motor setup (500 miles), and 17% were for the entry-level single motor (250 miles). The latter is expected to start at $39,900.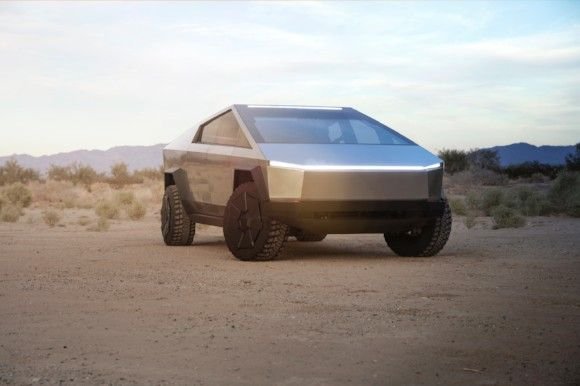 Any brand would be ecstatic after hearing that over 200,000 consumers have placed a deposit down on a vehicle, but for Tesla, the figure dwarfs what it received for the Tesla Model 3. With the Model 3, Tesla received 232,000 deposits the day after its debut. That vehicle, though, was marketed as being the affordable Tesla and doesn't have a radical design like the Cybertruck. It's a much more mainstream vehicle. Still, we suspect that Tesla's psyched about how hot the Cybertruck is.
It's important to note that these are just deposits and in no way require a buyer to actually purchase a Cybertruck down the road. With the Model 3, Tesla gave quite a few consumers that put down a deposit on the electric sedan a refund after consumers lost interest or changed their minds. With the Cybertruck set to go into production in 2021, a lot can happen and we wouldn't be surprised to hear some consumers back out.
The number of deposits also speaks to how well Tesla can draw some buzz for its vehicles. Musk may have gotten in trouble for a few of his previous Tweets, but the company knows how to market its vehicles in ways that attract consumers. It also speaks to how Tesla has created vehicles that have become far more than modes of transportation, but fashion statements and status symbols.