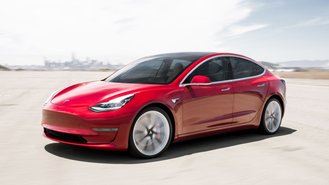 Once again, Tesla CEO Elon Musk took to Twitter to announce an upcoming change. The automaker's available Full Self-Driving (FSD) capability option, which currently costs $7,000, will go up by $1,000 on July 1.
"The FSD price will continue to rise as the software gets closer to full self-driving capability with regulatory approval," wrote Musk in a Tweet. "It that point, the value of FSD is probably somewhere in excess of $100,000."
Previously, Musk stated that the company's FSD option would go up in price as the automaker gets closer to introducing cars that can drive without any input from a human driver. Earlier this April, Musk announced, yet again on Twitter, that FSD would go up in pricing. In response to a tweet, Musk stated that pricing would go up on July 1. Low and behold, the CEO kept his promise. As Musk claims in the tweet, this most likely won't be the last time the pricing of FSD goes up.
At the moment, Tesla's FSD option doesn't result in a fully autonomous vehicle. FSD currently brings automatic driving from highway on-ramp to off-ramp, the ability to overtake vehicles, automatic lane change on highways, automatic park for both parallel and perpendicular spaces, traffic light and stop sign control, as well as Summon – a feature where your parked Tesla will come to you in a parking lot. An upcoming feature with FSD is Autosteer on city streets.
Consumers that decide not to buy FSD for $7,000 or $8,000 after July 1 can buy the system after the initial purchase, but it's more expensive. Teslas that don't have FSD still come with Autopilot, automatic emergency braking, blind spot monitoring, and forward collision warning as standard.
In an end-of-the-quarter conference call, Musk stated that FSD would be available as a subscription plan by the end of 2020. Instead of requiring consumers to pay a flat amount for the suite during the initial purchase, a flexible subscription plan would allow users to try out the feature for a few months before officially going all in.
This isn't the first time Tesla has raised the price of FSD. At the beginning of 2019, the suite cost $5,000, before being increased to $6,000 in May 2019. In October 2019, FSD went from $6,000 to $7,000, where it currently sits at now.
Even with FSD checked, Tesla wants to make sure owners know that the vehicle isn't capable of driving on its own. "The currently enabled features require active driver supervision and do not make the vehicle autonomous," warns the automaker on its website.