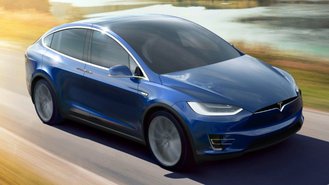 After a proposal that was introduced in November received bipartisan support in the Senate, it looked like the government would extend and expand the federal tax credit for electric vehicles. Unfortunately, Bloomberg reports that President Donald Trump put up strong resistance to the proposal, which was cut out of the federal spending bill. The decision is a blow to Tesla and General Motors, both of which have hit the 200,000 cap.
According to the outlet, the proposal faced "extreme resistance from the president," claims Senator Debbie Stabenow, Michigan's Democrat Senator. Apparently, the White House tanked the proposal because it views the expansion and extension of the federal EV tax credit as a way to help rich consumers in California and Tesla. It could also come down to a difference in viewpoints. The Trump Administration has sought to make coal a primary method of powering the country again, while EVs are all about finding more renewable sources of energy.
If the proposal had gone through, it would have raised the 200,000-vehicle cap for plug-in hybrids and electric vehicles up to 600,000. The maximum federal credit would have dropped from $7,500 to $7,000. Stabenow, along with two Republican Senators, Lamar Alexander, and Susan Collins, championed the proposal.
The news spells bad news for Tesla, as consumers have to take delivery of one of the automaker's electric cars before the end of the year to be eligible for up to $1,875 (one-fourth of the original tax credit). After that, the federal tax credits are gone for good. For GM, consumers have until March 2020 to take delivery of one of its electrified vehicles to be eligible for up to $1,875.
The decision clearly won't help electric car sales. The main reason for the federal tax credit was to help offset the high costs of purchasing an electric car, which is much more expensive than similarly equipped gasoline-powered vehicles. What consumers will probably end up doing, is choosing an electric vehicle that is still eligible for the full federal tax credit. Nissan, Kia, Hyundai, BMW, Volkswagen, Audi, Ford, and Jaguar's EVs are still eligible for the full $7,500 credit.