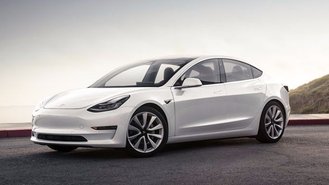 The Tesla Model 3 is going to kill the key, instead allowing owners to lock/unlock the car with help of the Tesla smartphone app.
The smartphone app connects to the Model 3 via Bluetooth, TechCrunch reports. When an owner approaches the Model 3, the doors automatically unlock once the vehicle detects the smartphone. But, if the driver is not carrying his smartphone (or if it has run out of battery), he can utilize a NFC key card – like you might use to get into a hotel room – to access the car. The card's dimensions are identical to those of a credit card, so it easily fits in a purse or a wallet.
Eliminating a physical key is yet another sign of how the Model 3 differentiates itself from the competition. However, while fascinating, the virtual key also carries a security threat as smartphones and mobile apps can be easily hacked.
Tesla is not the first automaker to dive into virtual car keys. Last year, Swedish maker Volvo announced that it was developing digital keys that could carry out all the functions of a physical key and also be "sent" to other smartphones, so that an owner's family or friends could drive or access the car. However, instead of a NFC-enabled card, Volvo will offer a physical key as a back-up.